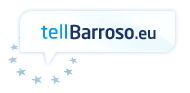 Thank you for your participation in the tellBarroso.eu project!
Your opinions have been gathered and presented to me by ten participants; I look forward to going through them in depth and detail. The tellBarroso.eu web survey is now closed. It can still be viewed on the website, however no more comments will be included in the results. The complete results can be found
here
and you can continue discussions on
the CES blog space
. The numbers of the survey participants were very impressive. With over 150.000 participants, the final results included 12.040 proposals, 124.154 proposal evaluations, 578.257 proposal views and 130.887.694 impressions in social media. The aim of this pioneer initiative was to bring European citizens closer to the European Union.
Thank you once again, dear friends, for your participation. I look forward to continued cooperation.